$54.88 at Sam's Club
(I paid $45 for it when I got mine.)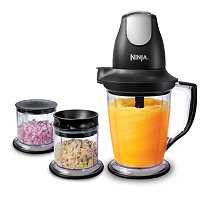 Since I've started doing my green smoothies, I've used a blender MORE than I ever have in my entire life.
I've stayed away from blenders, to be honest, because they just weren't worth the MESS, in my opinion.
I had a Vitamix with three different pitchers in my home for 3 years, just about…and I used it a total of 10 times. MAYBE.
The week AFTER I gave the Vitamix to someone who desperately longed for one, and I knew would USE IT, I found "green smoothies".
R E A L L Y ! ? ! ?
I'm not even kidding.
****
My mother is the Queen of Kitchen Gadgets. She is the one that gave me the coveted Vitamix. She got a second 'amazing' high powered blender (not BlendTec, but a different one…cannot recall the name right now), so she gave me the Vitamix.
She acquired this Ninja Master Prep Pro, from Sam's Club and she was IN LOVE with it. I had been eye balling it for a while…but because I really didn't USE the AMAZING blender I had at the time, I really had to think, Why would I even use it?
So, then my analytical mind began examining why I didn't use such a great piece of gadgetry.
I do NOT like scraping around the blade to get my 'stuff' out.
Hmmmm. Ok. That seems simple enough.
Then I realized, this Ninja thing, the blades come OUT. Easily.
***
That being said….my analytical mind was thinking about this Ninja for a while….ENTER GREEN SMOOTHIES.
Ok…now I NEEDED a blender!
Here's the review.
Considering Vitamix blenders are all the buzz in the 'green smoothie' world, I was determined to at least try using the Ninja Master Prep Pro. I mean, let me think, spend $45 (it was $45 when I bought it…it is now $54) or spend $400? Or be an 'taker backer' and ask for the Vitamix back that I had just days ago, GAVE AWAY.
Seeing how I am not much of an 'taker backer', I opted for the Ninja. Eh, what the heck…it was $45.
I absolutely LOVE IT! LOVE LOVE LOVE!
It has the two small cups for food processing. I use those for coffee grinding, baby food making, and peanut butter making. I also occasionally use them for chopping onions, celery, and the like.
Then there is the smaller of the two pitchers, the 40 oz. one. I seldom use that one, but it's nice to have.
And lastly, the 48 oz. pitcher is what I use ALL the time. It's not BIG enough to make the quantity of green smoothies I need for my family and myself…but it gets the job done.
The blades are powerful and effective enough to blend up my green smoothies perfectly.
I am impressed with the ease of use and cleaning that the Ninja Master Prep Pro offers. Although it can be a pain to have to take the motor off and then the lid and then add the ingredients for my smoothies. But hey, you can't have everything….right? (Right?) LOL
I enjoyed this Ninja SO much, when I saw the NEW AND AMAZING "Ninja Kitchen System" come out in our local Sam's Club, I WAS BOUNCING OFF THE WALLS! $136! And it was soooo pretty, and had a BASE….and the BIG pitcher….Oh, that's right…THAT'S a DIFFERENT REVIEW! 🙂 Check it out! 🙂
PRODUCT REVIEW: Ninja Kitchen System
Be blessed.